DrasticPreview Legacy Media Player
Version 4 with the Clarion interface available now. Please see its page here.
DrasticPreview is a media player designed to support the majority of media formats used in the broadcast and production industries. DrasticPreview can play many, many different flavors of media files. It supports today's most important file types, and includes a number of others we've added over the years. This innovative software allows the user to view their files on a VGA/DVI monitor without tying up the native, or even compatible (typically in high demand) production or broadcast device or application. Play media for collaborative and review applications, scene marking and EDL construction. Play media stranded by failed or unavailable legacy devices or applications. Play all your files from one station, using one application.
The Player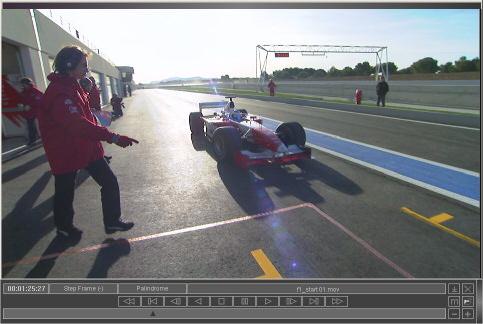 The main GUI offers a full range of transport controls for forward and reverse playing and cueing, displays time code, playback mode, and file name, and shows a slider to indicate the current position within the clip. The on-screen viewer window may be scaled to effectively accommodate varying viewing requirements, including a full-screen mode.
Media can be selected through a standard browse approach, or dragged and dropped onto the display window. Once loaded, the clips may be played or viewed in various playback modes, including normal, looping, palindromic, RAM, audio-only or video-only. DrasticPreview provides a full range of keyboard/number pad commands for transport control, window resizing, playback modes, and to access the metadata, extended metadata, playlist and real time data windows.
DrasticPreview Skin
DrasticPreview may be 'skinned'. This allows the user to implement a custom or branded media player, as suited to the application. The user may create a set of images corresponding to the possible states of DrasticPreview's operation, with the user's preferred look and feel (and possibly the user's branding), and save them according to the skin editor's preference. The application can then be pointed to the new skin. Any number of skins may be created to suit various purposes, which the user may open as needed.
Real Time, Metadata and Per Frame Data
A great deal of information associated with the selected media is maintained and can be displayed in separate, dedicated windows. These can be opened and closed as needed; in fact the user may choose to locate everything but the display window on a second monitor depending on the hardware setup. Here are some additional DrasticPreview display components.
Real Time Data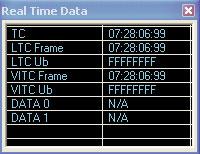 * TC (time code) - Absolute position
* LTC - Longitudinal (SMPTE) time code and user bits
* VITC - Vertical interval time code and user bits
* DATA 0 user data or size (4 bytes)
* DATA 1 user data or pointer (4 bytes or greater) Basic Elements
Metadata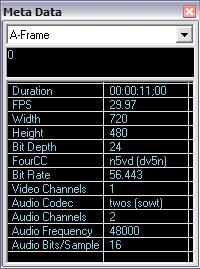 Metadata associated with the media is maintained by DrasticPreview and may be displayed within the metadata window. There are over a hundred metadata elements with information addressing the many facets of each media file's existence, and in some cases the attributes of a selected track, or stream. For a complete list of metadata fields, see the Drastic Metadata page.
Frame Information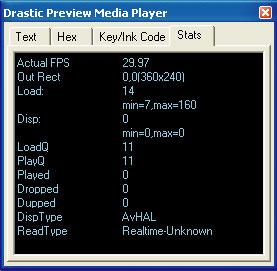 The Extended Metadata, or Per Frame Information window displays text/hex and key code/ink code and stats information.
* TEXT Data - User defined per frame text
* HEX Data - User defined per frame hex
* RP-215 - Audio/Video time code, Ink Code and Key Code
* Stats - clip statistics, including frames per second/dropped, output size, load and display attributes etc.
Time Code Display

To augment some playout applications, a large time code readout window has been implemented so that the time code may easily be viewed while a clip is being played, without necessarily having to be sitting directly in front of the monitor. The user may select between standard time code, LTC or VITC time code sources.
Closed Captioning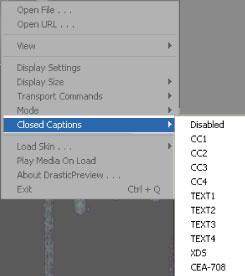 DrasticPreview supports 608/708 Closed Captions. The closed caption information will be displayed over the video frame when enabled.
Media Sequencing and Cueing
Play List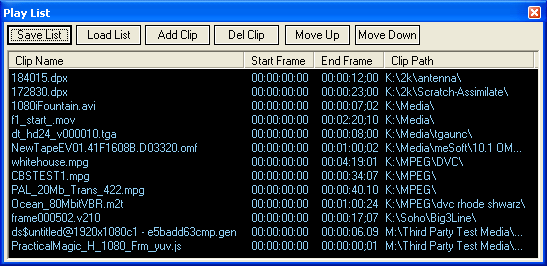 The Play List allows the user to set up a list of clips to be played in sequence. The Play List is not as full featured as the timeline in Drastic DDR and MediaNXS, but it will play through a simple list of clips. The Play List is opened by selecting the appropriate item from the DrasticPreview context menu. Clips may added to the list using the Add Clip browser, until all the required media is in the list. The position of any clip in the list may be revised by moving it up or down in the list.
A Play List may be saved in a variety of playlist formats, and opened as needed to play through media. Supported Play List formats include: Windows Media play list, Standard URL play list, MPEG play list, Playa play list, Advanced Streaming Redirector Files, HTML Page play list, Text File play list.
Go To

To access a known time code location within a clip, the user may open a "Go To" window and enter the location, then press the Go button. The loaded clip will be cued up to the specified location, ready to play.
Supported File Formats
| | | |
| --- | --- | --- |
| Extension | File Format | Codec |
| 4224 | 4224 | YCbCr 4:2:2:4 |
| AIFF | Apple audio | 16/20/24/32 bit stereo pairs |
| ARC | IFX Piranha | Audio/Video (YCbCr/RGB 8 only) |
| ARI | Arri | Raw 12 bit bayer |
| AVI | Windows | DVSD, DV25, DV50, DVHD, CineForm*, CineForm3D*, YCbCr 8 & 10 SD/HD, standard codecs |
| AVC, MTS | AVC-HD | MPEG-2 camera media |
| AVS | AVS | Video redirection (Windows only) |
| Audio: BWF, 8SVX, AU, AVR, GSM, HCOM, IFF, PCM, SF, SMP, SND, VOC, WVE | Audio files | 44.1/48/96 kHz 16, 20, 24 and 32 bit |
| CINE | Phantom | Phantom 10, 12 and 14 bit bayer |
| DNG | CinemaDNG | 10, 12 and 16 bit bayer |
| DPS | DPS | Compressed DPS files (Windows only) |
| DPX | Cineon | RGB 8, RGB 10, YCbCr 4:2:2 |
| DPX | CineForm | CineForm*, CineForm3D* |
| DT3D | DT3D | XML 3D redirector |
| DV/DIF | DV/DIF | Raw DV files |
| DVS | DVS | Uncompressed YCbCr and RGB files |
| fhgDI, fhgDP, fhgAP | fhgDI, fhgDP, fhgAP | Weisscam digimag format |
| FLM | FLM | Adobe FilmStrip |
| FLV/SWV | FLV/SWV | Flash/Shockwave video |
| GEN | GEN | 4:2:2 YCbCr (Avid DSHD) |
| GXF | GXF SMPTE 360 | MPEG-2, DV25, DV50, DVHD |
| H264 | h.264 | 4:2:0 SD/HD up to 80 mbits/sec |
| HDR | YUV | DV25, DV50, DVHD, AVCi100**, RGB, Uncompressed YCbCr 8 & 10 SD/HD |
| HDR | YUV | YCbCr10, YCbCr16, DPX RGB, DNxHD |
| HDV | HDV | MPEG-2 camera files |
| IHSS | Iridas | RGB |
| JS | Jaleo | 4:2:2 YCbCr |
| LUMA RMY BMY | LUMA RMY BMY | Uncompressed YCbCr |
| MOV | QuickTime | DVSD, DV25, DV50, DVHD, AVCi100, DNxHD, CineForm*, CineForm3D*, RGBA, RGB-10 (DPX), YCbCr 8 & 10 SD/HD, standard codecs |
| MOV | QuickTime | ProRes, h264, AVCi, MPEG-2, XDCam |
| MPEG | MPEG-1 | 4:2:0 up to 15 mbits/sec |
| M2TS | M2TS | AVC-HD camera files |
| MKV | MKV | Matroska audio video |
| MP1/MP2/MP3 | MP1/MP2/MP3 | MPEG audio |
| MPEG | MPEG-2 | 4:2:0/4:2:2 SD/HD up to 80 mbits/sec |
| MPEG | MPEG-4 | 4:2:0 up to 50 mbits/sec |
| MXF | Avid | DV25, DV50, DVHD, DNxHD, Uncompressed |
| MXF | Digital Cinema | DCI Unencrypted |
| MXF | EditCam | DV25, DV50, DVHD, DNxHD |
| MXF | Grass Valley | Grass Valley iCR |
| MXF | Harmonic | MPEG-2 |
| MXF | JPEG-2000*** | Grass Valley Infinity |
| MXF | OP1a/Omneon | DV25, DV50, DVHD, AVCi100**, Uncompressed |
| MXF | Panasonic-P2 | DV25, DV50, DVHD, AVCi100** |
| MXF | Pinnacle | MPEG-2 SD/HD |
| MXF | Snell & Wilcox | MPEG-2, IMX |
| MXF | Sony | MPEG IMX |
| MXF | Sony | XDCamHD, XDCamEX 4:2:0/4:2:2 |
| MXF | Sony | HDCam SR 4:2:2 and 4:4:4 |
| MXF | Sony | F65 raw bayer |
| MXF | XAVC | XAVC HD and 4K |
| OGG | OGG | OGG audio video |
| OMF | OMF | DV25, JPEG, Meridien, AVBV, CamCutter |
| QNT | Quantel | Raw uncompressed YCbCr images |
| R3D | RED | Red camera files |
| RBG | RED BLU GRN | Uncompressed RGB |
| RMF | RMF | Canon C500 raw 10 bit bayer files |
| RTIN | RTINDEX | Real time replay of CBR and VBR records while still recording |
| RTV | RTV | Uncompressed Video Toaster files (Windows only) |
| TGA | Targa | RGB, RGBA (RLE Play Only) |
| TIFF | TIFF | RGB, RGBA |
| Stills | Series of stills | BMP, SGI, PSD, RAW, YUV10, YUV16, VSR, RAS, RAW, JP2, JPG - Series of stills (many others) |
| V210 | V210 | 4:2:2 10 bit YCbCr image sequence |
| VC1 | VC-1 | WMV of raw wrapper |
| VOB | VOB | Unencrypted |
| VPB/QTL | Quantel | Quantel uncompressed YCbCr images |
| WAV | Wave audio | 16/20/24/32 bit mono/stereo pairs/extensible |
| WEBM | WEBM | Youtube format |
| WMV/ASF | WMV/ASF | Unencrypted/DRM Free only |
| XAVC | X-AVC HD/4K | X-AVC 264 in MXF |
| Y4M | Y4M | YCbCr raw stream |
| YUV | YUV | 4:2:2 and 4:2:0 YCbCr image sequence |
| Y U V | YUV | Multi file component YCbCr files |
AUDIO specs:
8000Hz..96000Hz, 8/16/20/24/32 Bits, 2 Channels
VIDEO Frame Rates:
VariCam(1~60), 14.98, 15, 23.98/23.97, 24, 25, 29.97, 30, 50, 59.94, 60 or greater
VIDEO Frame Sizes:
Variable(60~4096/3112), 720/704x480/486/508/512, 720x576/596/608, 1280x720, 1920x1080/1035, 2048x1080/1112/1536/1556

Please note: DrasticPreview version 3 has been superseded by videoQC version 6
More great products from Drastic: