MediaNXS - Recorder/Player
Capture, Control, Convert and Output
Development of MediaNXS v6 has ended, and its features have been integrated into Drastic's next generation version 7 products such as Net-X-Code Server, FlowCaster, videoQC, and Drastic Scopes.
MediaNXS was designed to provide single channel capture and playback features for Windows. It supports user directed, time of day, or set duration record directly to a wide range of supported file types. Edit while record in Avid/Adobe, and import existing files for playback, proxy, processing, and delivery. MediaNXS maintains project-based media pools and settings, and offers a set of signal analysis tools (vectorscope, waveform monitor, and histogram), with built in metadata display.
Crash, Timed and Basic On Set Recording
MediaNXS provides a variety of recording methods and settings.

Record Setup

For on set use, self incrementing shot and take numbers can be embedded into each record file and its metadata. Records may be added to the timeline upon creation, either at a specific location or at the end of the last recorded clip. Records may be 'crash' records with user-directed record and stop controls, or using a set duration. Recordings may be set to occur at set intervals for a specified duration, including single frame recording for animation. Time of Day recordings may also be set up, using the system clock to automatically start the recording (and if desired a duration setting to end the recording).
All recordings are made in their selected, native format. Any storage that provides enough speed and capacity can be used. MXF files like XDCam, OP1a, DPP/AS-11 and HDF support Adobe Premiere native edit while ingest. Most other recording file types can also be edited during ingest in Premiere or Media Composer using the MediaReactor Workstation add on.
File Import and Export via Embedded MediaReactor
MediaNXS includes selected components of Drastic's award winning MediaReactor file translation engine. This allows a wide variety of files that cannot be worked in real time, to be imported or exported to file formats that can. The new file will always be to one of the industry standard formats MediaNXS supports for native playback.

In From File
Import creates a series of new files in the specified format, ready for review, delivery or display. The new files are added to the Clip Bin so they will appear in the Thumbs and Clip views. A Preview feature is offered to confirm the user has selected the right media (and a remove function if the clip does not need to be transcoded).

Out to File
Output to File uses the Timeline to select the media which will be transcoded. A dialog lets the user set the format for the conversion, and sets an In and Out point to specify the media which needs to be transcoded. Once the transcode is finished the resulting file will have media where there are clips, and black with silence where there are none.
A Load and Save As dialog are present in the format setup to provide templates for the user's transcodes, so the user only has to set up the transcode once to use the same parameters at will. The template is also available to other MediaNXS stations if it can be accessed on a network.
Clip Bin and Thumbnail View
Each MediaNXS project features a "Clip Bin" that contains a selected subset of the files available to your system. These files can be displayed as a clip list or a series of thumbnails, limiting the amount of information that needs to be dealt with at one time. Full sorting capabilities make it easy to find your clips, even in very large clip bins.

Thumbs view
The Thumbs view provides a picon and identifying information about each clip, and offers dynamic features for the convenience of the user. Double clicking on the clip will load its details into an edit clip dialog. A right click option provides metadata display and edit options. You can add a clip to the Timeline or EDL by dragging and dropping.


Clips view
The Clips View provides more extensive clip details, and offers a number of controls to work with the clip. The media can be removed (simply taken off the list but maintained), deleted (moved to the trash bin) or edited (have its in/out points trimmed). The clip may be duplicated to provide multiple instances for editing. The clip may be exported to various formats for delivery or alternate output.

Metadata
For all records, the metadata set is embedded into the media file where possible, and also stored in a sidebar XML file so that no information is lost. Metadata may be displayed for any loaded clip by selecting the Metadata View tab.

Metadata may also be accessed for a clip which has not been loaded. In Thumbs view, the user may right click on any clip's picon and select Metadata from the context menu. In Clips view the user may scroll to any clip and click on the word 'Metadata' to see the clip's metadata. Over a hundred metadata elements are maintained so any information that has been properly set will be accessible.
Timeline and EDL Editing
MediaNXS projects maintain a cuts-only conform that may be viewed as a timeline or a traditional EDL (edit decision list). Clips may be added dynamically from the Thumbs view or Clip list. An Add dialog is available for clips not in the Clip list.

Timeline view
Clips are displayed on the timeline as a set of tracks, each of which display the track name. A picon is displayed for quick visual reference. Selecting the clip loads its details to the left of the timeline and allows the user to edit the In/Out points (trim the clip) and clip position on the timeline. An undo button is provided to remedy an incorrect action on the timeline. The timeline also provides the basis of the 'To VTR' direct to tape output as well as the file export. Timelines can be quickly generated by dragging and dropping clips onto the timeline, then moving them into place, and trimming as needed. Fine tuning of the timeline can be done in the time code edit boxes to the right of the timeline, making frame accurate changes a snap.

EDL view
When in the EDL view, all time code positions are editable in place, for maximum convenience. Clips are displayed on the EDL as a row whose columns detail the parameters of the clip, such as the In/Out, Position, Path, Comment. Selecting a clip loads its details and allows the user to edit the In/Out points (trim the clip) and clip position in the EDL.
Batch Control External VTRs In and Out
Control an external VTR for frame accurate EDL based pull-ins and multiclip timeline based laybacks. Automatically create timelines through EDL batch capture. Exchange and edit timeline components for multiple distributables. Lay back the timeline in one pass and export a matching EDL.

Preview individual edits or the whole EDL before running it. Adjusting edits is simple and non-destructive. Multiple lists may be saved whether they reference the same media or different media pools. MediaNXS supports a wide range of standard EDL types so lists may be saved in the user's preferred format for ease of access and compatibility.

There is a slave mode 9 pin serial control option available for MediaNXS, which allows standard controllers and automation systems to start and stop recording, bump edit, play out files and playlists, and review and create clips remotely. This option provides for seamless integration into an automated environment.
Signal Analysis and Measurement
Built into MediaNXS are preview, vectorscope, waveform YCbCr, waveform RGB and histogram displays. Single link or dual link (hardware-dependent), RGB or YCbCr and file monitoring are supported. These signal analysis and measurement tools provide a general reference to confirm input and playback signal levels, color balance and other information.

Signal analysis and review tools
View the black and white levels, luminance, and chrominance, with alarms. Also view both chroma and luma using Drastic's vectorscope and exclusive "Luma Stick"! Each of these signal analysis and review screens sits next to a scaled down VGA display of the clip (black & white for the waveform monitor) with dynamic features. Grabbing the VGA screen and pulling to the left or right will scroll through the clip at a rate relative to the speed of the user's action. Double clicking on the VGA toggles between cueing the first and last frame of the clip.
Application Compatibility and Conversion
MediaNXS not only supports physical I/O, it also provides transcoding from and to formats used by your digital intermediate software. Direct support for the formats used in Smoke/Flame, Assimilate SCRATCH, Nuke, Final Cut Pro, Avid editors, Premiere Pro, Digital Vision, After Effects, Shake, Motion, Combustion and many more. MediaNXS creates both compressed and uncompressed files that are supported directly by these applications. This means no extra steps in moving media between your editing, graphics, color grading and CGI tools and the real world, from creation to delivery.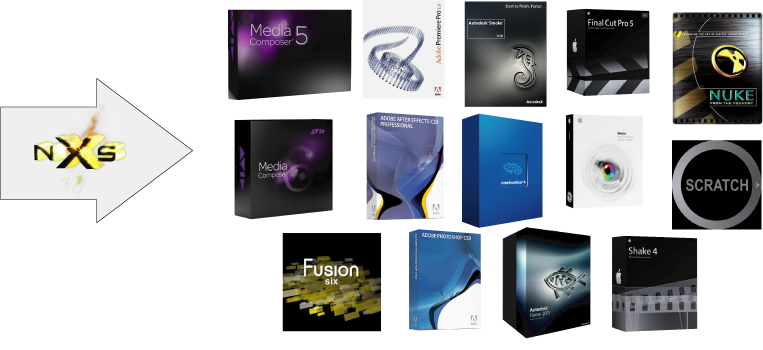 ...create files used by most popular content creation tools
Edit while Ingest
MediaNXS supports recording directly to OpenMXF, which allows other applications, like Adobe Premiere, Avid Media Composer and most players, to play the file while it is still recording. MediaNXS also supports the RTIN real time index format, that can be used with plugins to allow edit while recording in Adobe Premiere, Avid Media Composer, Assimilate Scratch, Digital Vision Nucoda and Autodesk Flame/Smoke, while recording standard file formats like MXF, MOV, AVI and YUV. videoQC can be used with both OpenMXF and RTIN workflows to check and clip files as they are being recorded.
Supported File Formats
(Note: Hardware output support is limited to standard SMPTE video sizes and frame rates as supported by the user's AJA, Bluefish444 or Decklink video video card)
Extension
File Format
Codec
Read
Write
3GP
3GP 26x
h 264, 263, 261
X
4224
4224
YCbCr 4:2:2:4
X
X
AIFF
Apple audio
16/20/24/32 bit stereo pairs
X
X
ARC
IFX Piranha
Audio/Video (YCbCr/RGB 8 only)
X
ARI
Arri
Raw 12 bit bayer
X
Audio: BWF,
8SVX, AU, AVR, GSM,
HCOM, IFF, PCM, SF,
SMP, SND, VOC, WVE
Audio files
44.1/48/96 kHz 16, 20, 24 and 32 bit
X
AVC, AVCHD, MTS
AVC-HD
MPEG-2 camera media
X
AVI
Windows
DVSD, DV25, DV50, DVHD, CineForm*, CineForm3D*, YCbCr 8 & 10 SD/HD, standard codecs
X
X
AVS
AVS
Video redirection (Windows only)
X
CDX
Codex
Codec raw bayer stills
X
CINE
Phantom
Phantom 10, 12 and 14 bit bayer
X
CRW
Canon
Canon camera raw stream
X
DASH
h.264
DASH Fragmented MP4 and Smooth Streaming
X
X
DNG
CinemaDNG
10, 12 and 16 bit bayer
X
X
DPX
Cineon
RGB 8, RGB 10, YCbCr 4:2:2
X
X
DPX
CineForm
CineForm*, CineForm3D*
X
X
DT3D
DT3D
XML 3D redirector
X
DV/DIF
DV/DIF
Raw DV files
X
DVS
DVS
Uncompressed YCbCr and RGB files
X
EXR
OpenEXE
High dynamic range float stills
X
fhgDI, fhgDP, fhgAP
fhgDI, fhgDP, fhgAP
Weisscam digimag format
X
FLM
FLM
Adobe FilmStrip
X
FLV/SWV
FLV/SWV
Flash/Shockwave video h.263/264
X
GEN
GEN
4:2:2 YCbCr (Avid DSHD)
X
X
GV
XML/N0/T/I/A
Grass Valley disk record native (K2)
X
GXF
GXF SMPTE 360
MPEG-2, DV25, DV50, DVHD
X
H264
h.264
4:2:0 SD/HD up to 80 mbits/sec
X
HDR
YUV
DV25, DV50, DVHD, AVCi100, RGB, Uncompressed YCbCr 8 & 10 SD/HD
X
X
HDR
YUV
YCbCr10, YCbCr16, DPX RGB, DNxHD (licensable)
X
X
HDV
HDV
MPEG-2 camera files
X
HLS
h.264
HLS TS MultiRate
X
X
IHSS
Iridas
RGB
X
ISMV ISMA
Smooth Streaming
h.264, AAC, WMV
X
JP2
JPEG-2000
Series of JPEG-2000 stills
X
X
JS
Jaleo/Mistika
Sgo native 4:2:2 YCbCr
X
X
KRW
Kinefinity
KineRAW Compressed Raw Stills and Stream
X
LUMA RMY BMY
LUMA RMY BMY
Uncompressed YCbCr
X
LXF
Leitch/Harris
DVSD, DV25, DV50, DVHD, AVCi50, AVCi100, MPEG-2, h.264
X
M3U8
HLS
h264, h265, TS or MP4
X
X
MKV
MKV
Matroska audio video, VPx, h.26x
X
MLV
Magic Lantern
Raw 14 bit bayer with PCM audio
X
MOV
QuickTime
DVSD, DV25, DV50, DVHD, AVCi100, DNxHD (licensable), CineForm*, CineForm3D*, RGBA, RGB-10 (DPX), YCbCr 8 & 10 SD/HD, standard codecs
X
X
MOV
QuickTime
ProRes, h264, AVCi, MPEG-2, XDCam
X
X
MOV
Reference File
MOV reference file pointing at h264, prores, DV, AVCI
X
MP1/MP2/MP3
MP1/MP2/MP3
MPEG audio
X
MP4
AVC1,h.264
Apple h.264, h.264 AVC
X
X
MP4
HEVC, h.264
HEVC/265
X
X
MP4
XAVC-S
Sony XAVC-S HD/4K Cameras
X
MP4
MPEG-2
Sony/Canon camera
X
MPEG
MPEG-1
4:2:0 up to 15 mbits/sec
X
X
MPEG
MPEG-2
4:2:0/4:2:2 SD/HD up to 80 mbits/sec
X
X
MPEG
MPEG-4
4:2:0 up to 50 mbits/sec
X
X
MTS, M2TS
M2TS
AVC-HD camera files
X
X
MXF
AS-02
AVCi, DNxHD (licensable), DVHD, JPEG-2000
X
MXF
AS-11 DPP UK
AVCi100, IMX 50
X
MXF
Avid
DV25, DV50, DVHD, DNxHD (licensable), Uncompressed
X
X
MXF
Canon
MPEG-2
X
MXF
Digital Cinema
DCI JPEG-2000 Unencrypted, Uncompressed Audio
X
X
MXF
EditCam
DV25, DV50, DVHD, DNxHD (licensable)
X
MXF
Grass Valley
Grass Valley iCR
X
X
MXF
Harmonic
MPEG-2
X
MXF
h.264/AVC
MPEG-2
X
MXF
IMF
IMF JPEG-2000 YCbCr, Uncompressed Audio
X
X
MXF
JPEG-2000***
Grass Valley Infinity
X
X
MXF
OP1a
AmberFin, EVS, MainConcept, MOG, OpenCube, Rovi
X
MXF
OP1a/Omneon
DV25, DV50, DVHD, AVCi100, Uncompressed
X
X
MXF
OP1b
Panasonic AVCi 4K
X
MXF
Panasonic-P2
DV25, DV50, DVHD, AVCi100
X
X
MXF
Pinnacle
MPEG-2 SD/HD
X
MXF
Snell & Wilcox
MPEG-2, IMX
X
MXF
Sony
MPEG IMX
X
X
MXF
Sony
XDCamHD, XDCamEX 4:2:0/4:2:2
X
MXF
Sony
HDCam SR 4:2:2 and 4:4:4
X
X
MXF
Sony
F65 raw bayer
X
MXF
Sony
F5, F700 raw bayer
X
MXF
XAVC
XAVC HD and 4K
X
OGG
OGG
OGG audio video
X
OMF
OMF
DV25, JPEG, Meridien, AVBV, CamCutter
X
X
OMV
OMV
Uncompressed capture format
X
QNT
Quantel
Raw uncompressed YCbCr images
X
X
R3D
RED
Red camera files
X
RAW
ML/IOI
Magic Lantern RAW, IOIndustries RAW bayer
X
RBG
RED BLU GRN
Uncompressed RGB
X
RMF
RMF
Canon C500 raw 10 bit bayer files
X
RTIN
RTINDEX
Real time replay of CBR and VBR records while still recording
X
RTV
RTV
Uncompressed Video Toaster files (Windows only)
X
SEQ
Bayer
Raw camera seq bayer files
X
SIV
Bayer
Raw camera siv bayer files
X
Stills
Series of stills
BMP, SGI, PSD, RAW, YUV10, YUV16, VSR, RAS, RAW, JP2, JPG - Series of stills (many others)
X
TGA
Targa
RGB, RGBA (RLE Play Only)
X
X
TIFF
TIFF
RGB, RGBA
X
X
TR-01
TS J2K
JPEG-2000, AES3
X
X
TS
Transport stream
MPEG-2, h.264, h.265/HEVC, JPEG-2000, AAC, AC-3, AES3
X
X
V210
V210
4:2:2 10 bit YCbCr image sequence
X
X
VC1
VC-1
WMV of raw wrapper
X
VOB
VOB
Unencrypted
X
VPB/QTL
Quantel
Quantel uncompressed YCbCr images
X
VRW
Varicam Raw
Panasonic Varicam Raw
X
WAV
Wave audio
16/20/24/32 bit mono/stereo pairs/extensible
X
X
WEBM
WEBM
Youtube format
X
WMV/ASF
WMV/ASF
Unencrypted/DRM Free only
X
XAVC
X-AVC HD/4K
X-AVC 264 in MXF
X
Y4M
Y4M
YCbCr raw stream
X
YUV
YUV
4:2:2 and 4:2:0 YCbCr image sequence
X
X
Y U V
YUV
Multi file component YCbCr files
X
Specifications
Support for one video board, with automatic detection of hardware capabilities
Video/Audio specifications below are hardware dependent, please confirm specific capabilities with the video board's documentation. Additional system resources may be required to work with certain file types, including as noted below.
Video standards

(SD) 8/10 bit NTSC/525, PAL/625
(HD) 8/10 bit 720, 1080
(2K) 2048 Digital Cinema
(2K) 1556 HSDL
(2K) 1556 real time center cut
(2K) Red real time center cut (processor dependent)
(4K) 3840x2160 or 4096x2160

Video I/O

Single Link SD/HD (1.5)
Dual Link RGB (1.5 x 2)
File and Key (1.5 x 2)
3G 1080p50/59/60
3D stereo input
Raw Arri T-Link In
Raw Weisscam Bayer In
Raw LMP Bayer In

Up/down hardware converter controls, audio monitoring control
Audio

Up to 16 embedded audio channels (SD/HD)
Up to 16 AES/EBU audio channels (XLR or BNC)
Stereo RCA monitor pair

Signal Display

On screen VGA/DVI Monitor
3D VGA viewing modes (eyes, anaglyph, over/under, left/right, interlaced, etc)
Vectorscope with Drastic Luma Stick
Waveform Monitor YCbCr
Waveform Monitor RGB
Histogram
Full audio metering to 16 channels with maximum level indicator

Clip Management - (record, add, play, trim, remove/delete, seamless loop play)
Timeline - sequenced editable signal and file output
EDL - automatic creation, fully editable, save as various EDL types
Project Files - maintain settings and custom media pools
Time code - RS-422, RP-215, RP-188, LTC (SD/HD), VITC, D-VITC
Control External VTRs - Sony serial RS-422 (VTR)
Status - Audio/Video, system, metadata, status and error reporting/display
Minimum System Requirements
Windows OS (XP->7, 32 or 64 bit), 100 megabytes available on program drive, 1280x1024 GPU (AMD/NVidia recommended), 2 Gigabyte RAM, 2.4 GHz processor (Quad 3.0 GHz for DVHD/MPEG2-100), RAID storage for uncompressed (local or network storage for compressed playback).
Demo Download Unavailable
Please note, MediaNXS is end of life at version 5, and has been replaced with Drastic version 7 software. Downloads can be made available upon request for legacy clients. However, we cannot offer MediaNXS to new clients, so we no longer provide demo download install links.
If you are interested in automatable, multichannel capture and transcoding, please see Net-X-Code Enterprise.
For file output with full reference analysis and a set of scopes, please see videoQC.
For signal analysis with scopes, see our range of software signal analysis tools.
If you are an existing MediaNXS customer, in the rare event you may need to reinstall MediaNXS, please send an email to support@drastictech.com. Let us know who you are, which version you have, and if possible the version number.
For MediaNXS capabilities please see the following products
Net-X-Code Server provides a comprehensive and scalable set of tools for multichannel media ingest, clip/PFR/transcode, and output, and supports a wide range of industry standard file and IP stream formats. Net-X-Code supports capturing IP and SDI, and converting files directly to edit while capture formats. Net-X-Code also supports ingesting all major camera raw formats including Sony Raw, RED, Canon, Panasonic, Codex, Blackmagic, DNG, RMF, VRW, CDX, MLV and many other formats
videoQC lets you view files and IP streams, with support for time code, closed captions, metadata, clipping and export, display modes and much more. Compare your media to a template or file, and perform full reference analysis. It's easy to make sure the content conforms to your specs with audio and video scopes, wide file format support, and CSV/SQLite, HTML, and PDF reports.
Trademarks, Registered Trademarks, and Copyrights
Adobe, Inc. - Adobe, the Adobe logo, Adobe Premiere, Adobe After Effects, Creative Cloud, Frame.io, and Iridas are either registered trademarks or trademarks of Adobe in the United States and/or other countries.
Amberfin Limited - AMBERFIN is a trademark of Amberfin Limited.
Apple Inc. - Apple, the Apple logo, Final Cut, Final Cut Pro, Apple TV, iOS, iPad, iPhone, iPod touch, iTunes, Mac, Mac OS X, macOS, Shake, Final Cut Pro, ProRes, High Sierra, Mojave, M1, M2, and QuickTime are trademarks of Apple Inc., registered in the U.S. and other countries.
ARRI AG – ARRI, Arri T-Link, and Alexa are registered trademarks of the ARRI Group
ASSIMILATE® Inc. - Assimilate SCRATCH and Assimilate SCRATCH Lab are either trademarks or registered trademarks of ASSIMILATE® Inc. or its subsidiaries in the United States and/or other countries.
Autodesk, Inc. - Autodesk, Discreet, Flame, Flare, Smoke, Lustre, Maya, and Moxion are either trademarks or registered trademarks of Autodesk, Inc. or its subsidiaries in the United States and/or other countries.
Avid Technology, Inc. - Avid Media Composer®, Avid MediaCentral®, Avid Interplay®, and Avid NewsCutter® are either trademarks or registered trademarks of Avid Technology, Inc. or its subsidiaries in the United States and/or other countries.
CANON KABUSHIKI KAISHA - CANON is a trademark of CANON KABUSHIKI KAISHA
Corel Corporation - Pinnacle is a registered trademark of Corel Corporation
Digital Vision World - Digital Vision World is an operating brand of BlissTek Ltd. BlissTek Ltd. Digital Vision Nucoda is either a trademark or registered trademark of BlissTek Ltd. or its subsidiaries in England, Wales, and/or other countries.
Drastic Technologies, Ltd. – Drastic Technologies, Drastic, and Drastic.tv are registered trademarks of Drastic Technologies, Ltd.
EVS Broadcast Equipment - EVS is a registered trademark of EVS Broadcast Equipment
Google LLC – YouTube, Google, Google Cloud, Google.meet.com, and Android are registered trademarks of Google LLC
GoPro, Inc. - Cineform® is a trademark or registered trademark of GoPro, Inc.
Grass Valley USA, LLC - Grass Valley®, GV®, the Grass Valley logo, and EDIUS® are trademarks or registered trademarks of Grass Valley USA, LLC, or its affiliated companies in the United States and other jurisdictions.
Harris Corporation - Harris, and Leitch Technology Corp. are registered trademarks of Harris Corporation
Interactive Effects, Inc. - Piranha is a registered trademark of Interactive Effects, Inc.
Kinefinity Inc. - KINEFINITY is a trademark of Kinefinity Inc.
Magic Lantern - Magic Lantern is a registered trademark of Magic Lantern
NewTek, Inc. - NDI, TriCaster, 3Play, TalkShow, Video Toaster, LightWave 3D, and Broadcast Minds are registered trademarks of NewTek, Inc.
Panasonic Holdings Co., Ltd - Panasonic, and Varicam are trademarks of Panasonic Holdings Co., Ltd
Snell & Wilcox Limited - SNELL & WILCOX, and Quantel are trademarks owned by Snell & Wilcox Limited
Society of Motion Picture and Television Engineers - SMPTE is a trademark of Society of Motion Picture and Television Engineers.
The Foundry Visionmongers Ltd. - Nuke™ is a trademark of The Foundry Visionmongers Ltd.
Truevision, Inc - TARGA is a registered trademark of Truevision, Inc
Weisscam GmbH - Weisscam is a trademark and brand of Weisscam GmbH
All other trademarks are the property of their respective owners.