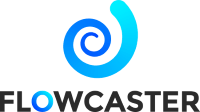 FlowCaster creates a virtual I/O board for your creative software, desktop, real I/O board or NDI source that sends a high quality video signal through the network for display on a local monitor. This article convers controlling and configuring FlowCaster through command line, its settings and via remote control.
Command Line Parameters
Usage: d:\drastic.trunk\bin64\flowcaster.exe [options]
Options:
-n, --ndisource NDI Source
-u, --urldestination URL to send to
-N, --name User name
-p, --password SRT password (min 10 char)
-I, --sourcenumber Source ID number
-s, --source <0-12 See Docs> A/V Source
-t, --transport <0-5: NDI,UDP,RTP,TR01,SRT,RTMP> Output Transport Type
-c, --codec <0-4: h264,h264_10,HEVC,HEVC_10,J2K> Codec
-i, --iframeorder <0-IBBP, 1-IPP, 2-III> Frame order
-b, --bitrate <# kilobits per second> Kilobits per second
-l, --latency <# milliseconds> Latency in milliseconds
-e, --encryption <0-none, 1-128, 2-256> Encryption level
-X, --watermarkx X position of the watermark
-Y, --watermarky Y position of the watermark
-W, --watermark Path and name of the watermark file
-x, --netx Parent Net-X-Code
-C, --config <0-All, 1-CS, 2-FCApp> Just display config page
-S, --saveconfig <0-NC, 1-CS, 2-FCApp> Save to settings
-L, --license Run for licensing
-?, -h, --help Displays this help.
-v, --version Displays version
information.
Windows (registry)
Creative Software Settings:
HKEY_CURRENT_USER\Software\Drastic\FlowCaster
Applications (SDI/HDMI/NDI/Desktop) Settings:
HKEY_CURRENT_USER\Software\Drastic\FlowCaster1
OS-X (~\Library\Preferences\)
Creative Software Settings:
/Library/Application\ Support/Drastic/com.drastictech.flowcaster.plist
Applications (SDI/HDMI/NDI/Desktop) Settings:
/Library/Application\ Support/Drastic/com.drastictech.flowcaster1.plist
Linux (~\.config\)
Creative Software Settings:
FlowCaster.conf
Applications (SDI/HDMI/NDI/Desktop) Settings:
FlowCaster1.conf
Settings:
AudioMode - what audio channels to send

Stereo - 0
Stereo Mix - 1
4 channels - 2
8 channels - 3
16 channels - 4

ColorSpace
Compression - compression for stream as a fourcc code

h264 - 875967080
h264 10 Bit - 1630680628
HEVC - 1752589105
HEVC 10 Bit - 1752589153
JPEG 2000 - 1598501450

DataRate - in kilobits per second (megabits per second divided by 1000)
Email - email address for licensing
Enabled - enable transmission of SDI/HDMI/NDI
Encryption - type of encryption to use

0 - None
1 - AES 128
2 - AES 256

FPS
IBP - the IBP structure of the compressed stream

IBBP - 0
IPPP - 1
IIII - 2

Latency - the number of milliseconds to use to recover packets
Password - password to use for the encryption (must be at least 10 characters)
SDR_HDR
SendHDRSignals - 1 if it should send HDR signals to the reciever
StreamNo - stream number to set for this send
TransferType
Type - protocol to send the stream as

SRT - Caller
SRT - Listener
SRT - Rendezvous
RTP
UDP
RTMP
NDI
CDI
RIST
WebRTC
SMPTE 2110

URL - the target address (eg. srt://199.0.0.123:5000?mode=caller)
User - the user name to use with the URL you are sending to (optional)
UserName - user name for licensing
Watermark - a path to a watermark file (normally PNG 32 bit)
WatermarkX - the horizontal offset at which to display the watermark image
WatermarkY - the vertical offset at which to display the watermark image