Operation Under Control for Your Application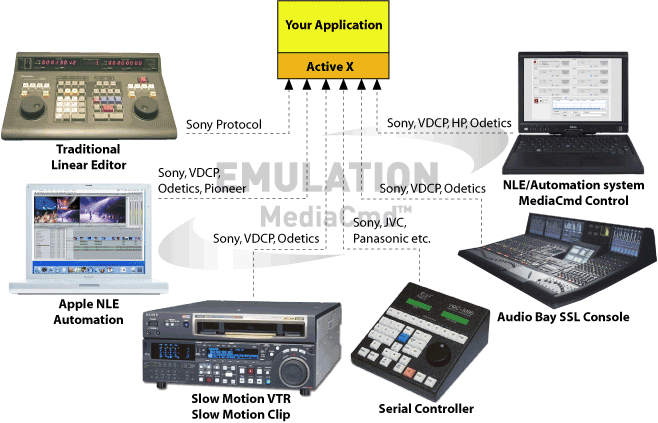 Need your Windows/OS-X/Linux64 application to operate under serial control?
A standard part of Drastic's DDR technologies for the past ten years, the MediaCMD Emulation SDK make your application appear as a serial controlled VTR or DDR. This real time kernel mode driver for Windows NT and 2000 provides Sony Serial VTR, Sony/Panasonic/JVC Digital extensions, Odetics server protocol and VDCP server protocol to the outside world in an event driven ActiveX control compatible with all major development systems. This control is based on the same technology used in Drastic's award winning DDRs, ensuring maximum compatibility with ease of implementation.
All protocols are auto sensing. Your software will respond correctly if any of the supported control protocols are used. The emulation layer will automatically change protocols if the controlling device is changed while the emulation is running. The actual emulation is written in WinNT/2Ks kernel mode (ring 0) so response is real time as required by most controllers and processor usage is minimal.
Sony RS-422 Serial VTR Control
Sony Serial Extensions
Sony Digital Extensions
JVC Serial Extensions
Panasonic Serial Extensions
Pioneer VDR 422 Emulation
Pioneer Dual Head Emulation
Odetics Server Protocol
VDCP Clip Server Protocol
The VTR Emulation features of the MediaCMD Emulation SDK are available within Drastic DDR Software.
Pricing for this SDK is offered in the form of a quote, based on the product you are making, its application and market, and projected quantities. All information provided is considered non-binding and would be treated as confidential.
More great products from Drastic
MediaNXS offers a comprehensive range of capture, playback, import and export features for the digital intermediate workflow. Integrate easily with indust...
Net-X-Code is a group of IP capture, control, convert and output applications designed to run on one or more servers on your LAN, in the cloud, or as a hybrid....