Operation Under Control for Your Application
Need your Windows/macOS/Linux64 application to operate under serial control?
The MediaCMD Emulation SDK makes your application appear as a serial controlled VTR or DDR. This real time kernel mode driver for Windows provides Sony Serial VTR, Sony/Panasonic/JVC Digital extensions, Odetics server protocol and VDCP server protocol to the outside world in an event driven ActiveX control compatible with all major development systems. This control is based on the same technology used in Drastic's Net-X-Code Server, ensuring maximum compatibility with ease of implementation.
Compatibility:
Windows 7 or greater, macOS Version 10.14 Mojave and greater, CentOS/Red Hat 7.4-7.8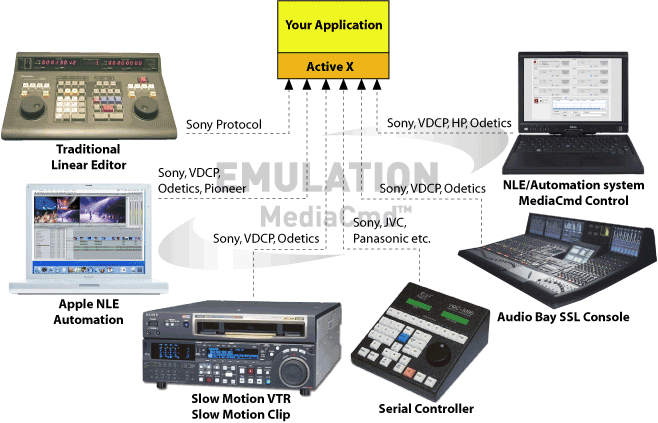 All protocols are auto sensing. Your software will respond correctly if any of the supported control protocols are used. The emulation layer will automatically change protocols if the controlling device is changed while the emulation is running. The actual emulation is written in WinNT/2K's kernel mode (ring 0) so response is real time as required by most controllers and processor usage is minimal.
Sony RS-422 Serial VTR Control
Sony Serial Extensions
Sony Digital Extensions
JVC Serial Extensions
Panasonic Serial Extensions
Pioneer VDR 422 Emulation
Pioneer Dual Head Emulation
Odetics Server Protocol
VDCP Clip Server Protocol
The VTR Emulation features of the MediaCMD Emulation SDK are available within Net-X-Code Server Software.
Pricing for this SDK is offered in the form of a quote, based on the product you are making, its application and market, and projected quantities. All information provided is considered non-binding and would be treated as confidential.
More great products from Drastic
videoQC is a suite of video and audio analysis and playback tools with both visual and automated quality checking tools. videoQC will take the media coming into your facility and perform a series of automated tests on video, audio and metadata values against a template, then analyze the audio and video. It includes...
Net-X-Code is a group of IP capture, control, convert and output applications designed to run on one or more servers on your LAN, in the cloud, or as a hybrid....
Trademarks, Registered Trademarks, and Copyrights
Apple Inc. - Apple, the Apple logo, Final Cut, Final Cut Pro, Apple TV, iOS, iPad, iPhone, iPod touch, iTunes, Mac, Mac OS X, macOS, Shake, Final Cut Pro, ProRes, High Sierra, Mojave, M1, M2, and QuickTime are trademarks of Apple Inc., registered in the U.S. and other countries.
Iteris, Inc. - Odetics is a registered trademark of Iteris, Inc.
JVC KENWOOD CORPORATION - JVC is a trademark of JVC KENWOOD CORPORATION
Linus Torvalds - Linux® is the registered trademark of Linus Torvalds in the U.S. and other countries..
Microsoft Corporation – Windows®, Video For Windows (VFW), DirectShow, Microsoft, Skype, Microsoft Azure, Microsoft Teams, Wave Mapper, and Internet Explorer are registered trademarks of Microsoft Corporation.
Panasonic Holdings Co., Ltd - Panasonic, and Varicam are trademarks of Panasonic Holdings Co., Ltd
Pioneer Corporation - Pioneer is a registered trademark of Pioneer Corporation
Sony Corporation – Sony, Sony DVD Architect, DVD, Catalyst, and Vegas are trademarks of Sony Corporation and/or its affiliates.
All other trademarks are the property of their respective owners.