FlowCaster Remote Collaboration Tools
Share the output of your editor over IP
FlowCaster software lets you send high quality video over IP for remote collaboration and review workflows. Directly share the output of your Adobe/Avid/Resolve etc. editor, or various other sources with remote participants at extremely low latency. Existing meeting sites can use the FC VirtualCam feature to see FlowCaster's output as a webcam.
Use the flowcaster.live site for feature rich review, including chat/webcam/telestration, and invite your whole team to provide feedback.
Compatibility:
Windows 7 or greater, macOS Version 10.14 Mojave and greater, CentOS/RedHat 7.4-7.8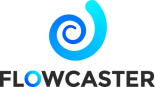 FlowCaster software provides a secure connection from your creative software to a local monitor, no matter where the software or the monitor is. The FlowCaster.live site uses FlowCaster components to provide a feature rich secure remote collaboration environment. FlowCaster lets you keep your creative software and media safely in your facility or cloud. No upload to an external server is required to allow your editors and artists working remotely to get the pixel perfect frame accurate display they need to create their magic.