Drastic HDRScope is the world's most powerful 8K through SD software signal monitoring tool and HDR image analyzer. It includes waveform (luma, YCbCr, RGB), vectorscope, histogram, chromaticity, and data/picture monitor for video. Audio histogram, phase, RMS, peak and loudness monitoring for up to 16 channels. Raw hex views of the video and OP-47/CEA-708/CEA-608 closed caption decoding, with support for CCIR-601, Rec.709 and BT.2020 color spaces and HDR10/ST2084/PQ and HLG (Hybrid Log Gamma) support. Designed to take advantage of AJA's 8K/SUHD Quad HD, 2SI, and 4K 60p capture modes in both Rec.709 or BT.2020, HDRScope provides the most cost effective SD/HD/4K/8K signal monitoring solution available.
HDRScope: 8K-SD
HDR Waveform Vectorscope Audio/Video Monitor
HDRScope software provides a real time, professional quality signal analysis tool for on set, production, post production, and research and development environments. HDRScope is designed to monitor from True 8K resolution down to NTSC/PAL and everything in between. It supports SDR and HDR image analysis with support for 601, 709, 2020, HDR10, HLG and WCG color spaces. Multiple audio and video scopes can be selected in a variety of layouts depending on your monitoring needs. For SMPTE 2110/2022 monitoring, please see our Network Video Analyzer.
Overview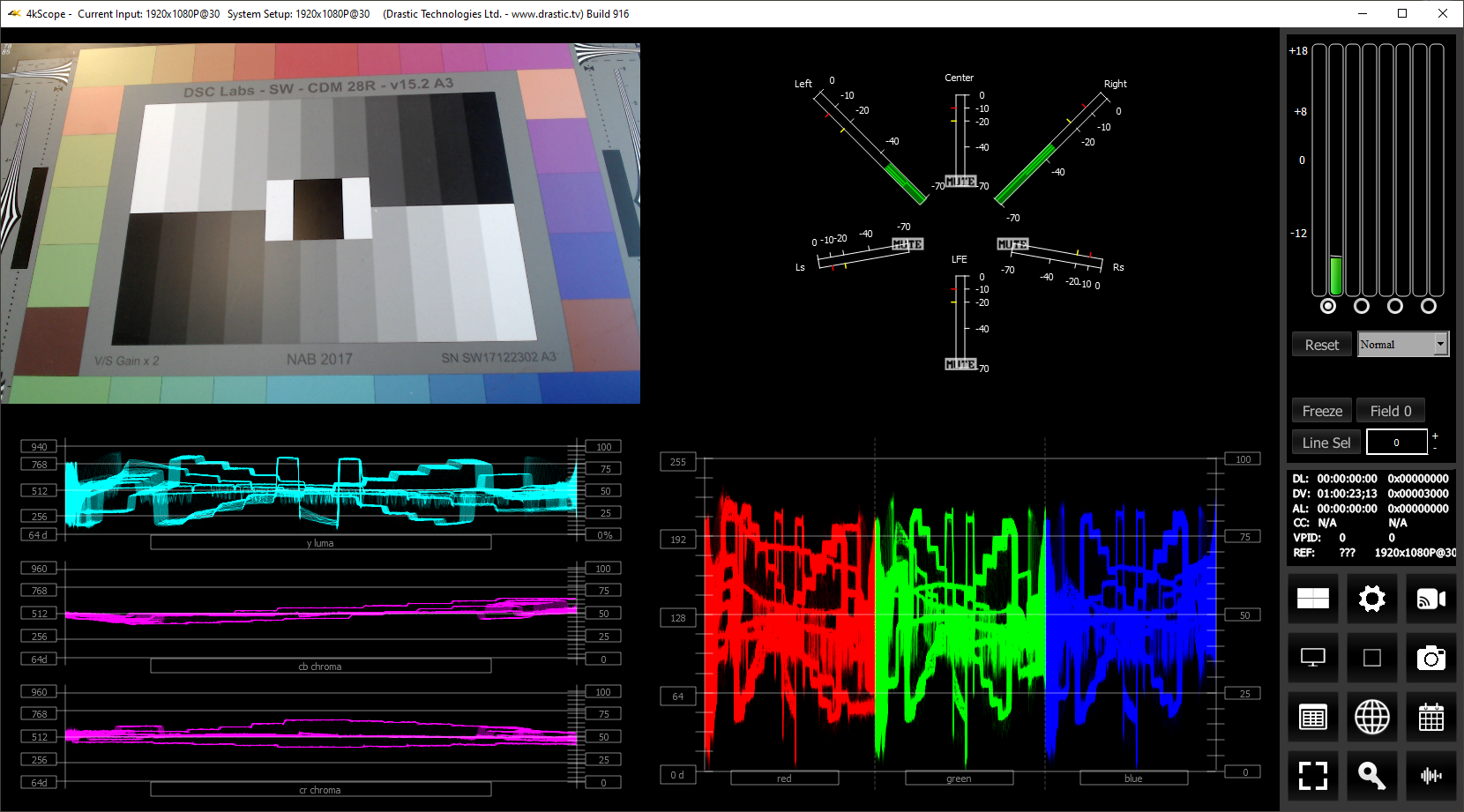 HDRScope can display up to six video, data, or audio scopes at one time with pixel accurate 16 bit precision in SDR or HDR. HDRScope is ideal for HDR mastering, DIT and broadcast monitoring, signal QC and remote monitoring. It is available as software, or a 1U hardware device, for Windows, macOS/OS-X, and Linux. Download now for full featured trial.
---
Video Scopes
Vectorscope (with WCG support), Waveform Luma, Waveform RGB, Waveform YCbCr (with HDR10 and HLG support), Histogram RGB, Histogram Luma, Chromaticity, Status
---
Audio Scopes
Audio Vectorscope, Audio Waveform, Audio Histogram, Audio Phase, Audio Meters in RMS or Loudness
---
Picture Modes
Red only, Green only, Blue only, Luma only, Zebra luma, Zebra chroma, Clipping, Edge difference, Focus assist, Flip/flop, False color, Opacity, Luma key, Greenscreen/chroma key
---
Advanced Features
Closed caption display (608, 708, OP-47), error logging, 8/10/12 bit processes as 16 bit, HTML5/Web remote access, zoom and pan, user markers, signal compare, frame capture and more
---
Main Use Cases
8K/SUHD monitoring
HDR/HLG/WCG monitoring and validating
SD/HD monitoring. live production
DIT pipelines
Broadcast monitoring
Remote network monitoring
Post production
Signal QC and final HDR mastering
---
Technical Specifications
Video Inputs: SD, HD, UHD, 4K, SUHD, 8K SDI
Audio Input: Up to 16 channels of 24 bit embedded, AES/EBU or analog
Display: HD to 8K SDR or HDR/HLG display (with app dimming)
Format Support: SD, HD (i/p/sf), UHD, 4K, SUHD, 8K up to 60p single/dual/quad/2si
Processing: 8, 10, 8K/SUHD, 12 bit input with 16 bit processing 4K or smaller, up to 32 lines of vertical blank
---
Available Upgrades
Network Video Analyzer:

All 4kScope features
Network packet timing and chart
10G/25G/100G NIC support
SMPTE 2110 and 2022

videoQC:

File based scope set same as HDRScope
Single sided analysis
Full reference analysis
This email address is being protected from spambots. You need JavaScript enabled to view it.
More great products from Drastic:
MediaNXS - Digital Intermediate I/O
MediaNXS offers a comprehensive range of capture, playback, import and export features for the digital intermediate workflow. Integrate easily with indust...