Partial File Restore - How To Buy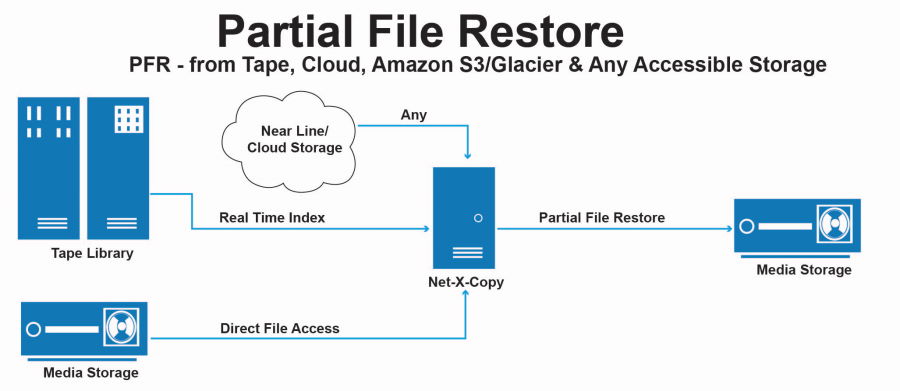 Considering Partial File Restore?
---
We recommend that customers ensure that the product fully meets their needs before any purchase. Because Partial File Restore suite includes a number of different components, a quick discussion will help us make sure the software we offer is a fit for your application.
Let's Discuss Your Application

Please send us an email to This email address is being protected from spambots. You need JavaScript enabled to view it. and let us know any details you can share about your application. This will help us determine which components you should test. For more detailed information on the product, you can also see the manual.
Base Software
Partial File Restore Server $7,495.00 US (provides the central connection for all the other components)
Partial File Restore Channel $2,495.00 US (provides an add on server license for a channel group or other instance)
Commissioning: $2,500.00 US - One time Partial File Restore setup and commissioning fee, required for first install.
Support Option
We also offer the Drastic Maintenance and Support Program for 10% of retail price, per year. This option provides priority technical support, bug fixes, and all version upgrades.
---
Drastic Catalog 2023
We offer a pricing and a brief description for each of our products in the Drastic Catalog. You can click the image to the right to view a PDF.
---
Trademarks, Registered Trademarks, and Copyrights
Amazon Web Services, Inc. - Amazon, AWS and Smile Logo, Powered by AWS Logo, AWS Co-Marketing Tools, the Partner Logo, the Program Marks, Amazon Web Services, AWS, AWS S3, and the names of AWS products, services, programs, and initiatives are trademarks or registered trademarks of Amazon Web Services, Inc.
Drastic Technologies, Ltd. – Drastic Technologies, Drastic, Drastic.tv, videoQC View, videoQC Pro, videoQC Inspect, videoQC Workstation, FlowCaster, Network Video Analyzer, 2110Scope, HDRScope, 4KScope, sdiScope, Net-X-Code Server, Net-X-Code Channel, Media File Scanner, MediaReactor, MediaReactor Workstation, MR Lite, ccConvert, Net-X-Proxy, Net-X-Convert, MediaNXS, ndiScope, DrasticPreview, QuickClip, DDRConfig, and SyncControl are registered trademarks of Drastic Technologies, Ltd.
All other trademarks are the property of their respective owners.
More great products from Drastic