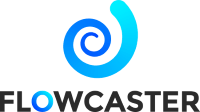 Use FlowCaster on the www.flowcaster.live site for real time group review of edit sessions anywhere in the world, without rendering or uploading your media to a server! FlowCaster.live receives audio/video/captions/time code from the editor's output in real time, while providing a shared area of talk, webcam, commenting, and collaborative drawing (telestration), all time code locked to your edit.
Changes can be made in real time, or noted in the comments and drawing, and saved for later retrieval. All the comments and drawings can be loaded as markers back into Premiere, Media Composer, Resolve and many others. With Premiere, our custom flowcaster.live panel provides a sync locked output image with overlays and comments, to allow the editor to see the required changes, without leaving Premiere. Full integration with Frame.IO is also supported via fioxml files.

Setup
To set up a www.flowcaster.live edit review session, the editor will need to install the included FlowCaster plugins onto the edit system. The edit system can be one of the following:
Adobe Premiere/After Effects/Character Creator/or other Transmitter compatible software
Avid Media Composer/NewsCutter or other OpenIO compatible software
Assimilate SCRATCH
Resolve/Flame/Smoke/Nuke or other OpenFX compatible software
Any system with an SDI or HDMI out, using the FlowCaster App and a compatible AJA/Bluefish444/Blackmagic/Matrox capture board
Once installed, the FlowCaster app can be used to configure the output to work with the live edit session. Generally, the editor will create a new session on www.flowcaster.live and then add the URL to the local configuration and send the link to all of the collaborators. As each participant logs in, the current comments and telestration will be shared so everyone is seeing the same information.
Workflow
Once the session is open, everyone involved can add time code accurate telestration, emoji and comments that everyone else in the session, including the editor, will see. The editor can use a web browser to add comments and telestration, and the browser will automatically highlight comments and display telestration for the time code point in the sequence the editor is working on. For Adobe editors, our custom Adobe Extension Panel can be used to monitor the comments, and also to import/export the comments and telestration as time code markers and images. Avid, Resolve and other workflows can also import the markers exported from the www.flowcaster.live sessions. Once the session is complete, the editor can continue to use it, or download it and upload directly into the editor, or re upload it to a new www.flowcaster.live session at a later time. If further group work is needed, then anyone with the previous session can upload it to a new session, and continue seamlessly from where they left off.
Specifications
Requires a compatible software: Adobe, Avid, Assimilate, Nucoda, Autodesk, videoQC, etc
Requires installation of the FlowCaster software (included with your subscription)
The editor software, via the FlowCaster, provides audio, video, time code and captions to the session
Any changes to the edit are instantaneously displayed to all participants
Everyone has the ability to comment, add telestration to the video, and see and hear webcam video and audio shared through the system
There is a free optional panel for Adobe software for import/export and monitoring
There are compatible import/exports for Adobe, Avid, Resolve, EDL and Frame.io
The video is never on anyone else's server. It is end to end encrypted and pasted directly to the participant's browser
The browser's video is extremely low latency (generally a couple of frames)
All participants have a full copy of the session metadata, but it is not saved on any external servers (peer to peer)
Sessions may be reloaded for further consideration, or checked with an editor using time code lock
Markers can be imported from a session to all major editors
Adobe Premiere can import comments as markers and telestration as images displayed over the timeline
More great products from Drastic