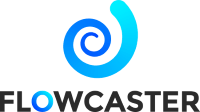 Asynchronous review lets anyone open a www.flowcaster.live session and add feedack via text, telestration, and emoji, and save the session to send off to the next stage of production. It is similar to synchronous review, but only requires one person at a time, and may be done by each participant at any time in any time zone.
Any individual, at any time, can load a session into FlowCaster.live and add comments, emoji, and drawings with time code accurate precision. Other stakeholders can join the session, or load the session data at a later date to add their comments and creative decisions. Once the session is complete, it can be saved out for the next stakeholder, or loaded into a new session, or directly into an Adobe or Avid editor, to implement the changes discussed in the session.

Setup/Workflow
Asynchronous www.flowcaster.live is similar to synchronous, but there is only one participant on the session. The session starts by loading a previous session file into a www.flowcaster.live room, or loading a new MP4/RTIN file into the current session. The file then becomes the time code source for any comments, emoji or telestration. If others have previously worked on that file, their session can be loaded into the current session, and any new comments/telestration will be added to that session. Upon completion, the session can be saved and optionally sent to other reviewers.
Specifications
Normal MP4 (AVC1/h.264, AAC) files are supported, using absolute time code
RTIN files add selectable multitrack audio (up to 32 tracks), time code and closed captions
Each individual has complete control over the playback, seeking and pausing of the file
The comments, emoji and telestration are locked to the time code of the file
Sessions, including all comments/telestration, can be saved and loaded
Session data can be exported for use in Adobe, Avid, Resolve, and other editing software
Video file can be public, private, or even local behind a VPN. It does NOT need to be on a particular server
All files remain on your storage, and www.flowcaster.live session is encrypted, point to point, between the participants
More great products from Drastic